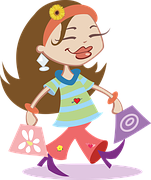 Nordstrom is one of the most successful retail stores in the country and has been for decades. 
Why?   Because they provide quality merchandise.   They offer exceptional customer service.  And they have created for us a pleasing retail experience while we're happily spending our money.
        It is wonderfully relaxing to walk through the store to the sight and sound of a real person playing soothing tunes on the piano. 
 To see the beautiful displays set strategically among extra wide isles with the clothes and accessories perfectly separated and displayed so you don't have to struggle to examine the items you are interested in.  
Your imagination soars.  You end up wanting one of everything.  You are grateful to sit on the comfortable, inviting couches placed just for you to take a little break. 
 Nordstrom interiors are beautiful, pleasing to the eyes and always invite you to come back – often – because you want to experience what it has to offer, again.
     Buyers love and will respond amazingly to this same experience when they're looking for a home to buy.  This is where the skills of a professional home stager come in. 
      National Association of Realtors research show that staged homes consistently sell for more money than non-staged homes. 
  More often than not, it isn't necessary to spend a lot of money to accomplish the magical effect. 
      The devil is in the details and knowing what to do and what not to do.
 Please see more of my blogs on staging success stories and my favorite easy but powerful staging techniques that sell. 
TIP:   Sometimes all it takes to sell a home for top dollar is a fantastic detailed cleaning the likes of which Martha Stewart would approve.