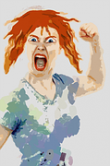 So you got a lowball offer,  That's ok.   It happens.  
You can reject it, counter it or accept it. 
But in the long run, if you've priced your home to compete with similar homes, and you and your agent have collaborated on your pricing strategy, you can reject it and you can appreciate the time and emotional investment it has taken for the buyers to write up that contract.
They love your home. They probably can't afford it or are bargain hunters. They tried.  Next!
      When you are price positioned correctly, you will get another offer of the right kind.  Most buyers are willing to pay fair retail price for the right home for their family. 
  Just think, they are looking at many other homes and they know the market.  They know good value when they see it and so does their agent. 
They may try to get the home a little under asking price, but often they will come up very near or at your full price with a counter as long as the home warrants it. 
     Along with price positioning to get the most money for your home, comes home staging and photography that sells.
 See my blogs on these topics. 
      TIP:   Remember that agents are required to present all offers to you, no matter how lowball they may be.